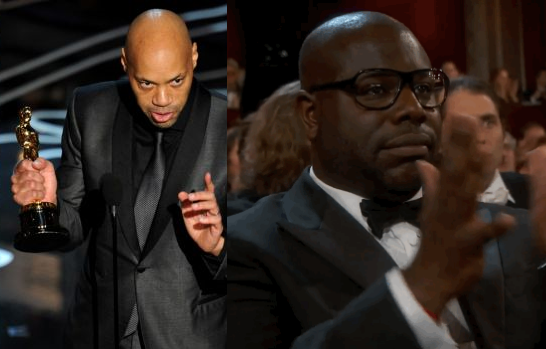 Some serious shade was thrown between 12 Years A Slave director Steve McQueen and Oscar-winning screenwriterJohn Ridley. Get the deets inside and read about Kanye West taking DONDA Music to Roc Nation.
In case you didn't notice, 12 Years A Slave director Steve McQueen (who won for Best Picture) gave a very slow clap for12 Years A Slave screenwriter John Ridley (who won the Oscar for screenplay adaptation).
The next thing you may not have noticed was the NASTY side eye John gave Steve as he walked to the Oscar podium. It screamed "I don't SEE you".
Two other things you may not have noticed, John's

acceptance

speech

DID NOT mention Steve and Steve's acceptance speech DID NOT mention John.
Ummm.....big elephant in the room. In a sea of white nominees, the two most high profile Black men (who just happened to work on the SAME movie) must know each other. Clearly....they've met. So.......what's the beef?

Hollywood

insider

Nikki Finke tweeted....

Hmmmm. Have either Steve or John spoken out? Nope.
It's called being professional.
TheWrap has published an insider's look at the feud between John and Steve. And it's juicy....
McQueen tapped Ridley to work on a separate slavery-themed project that eventually led to "12 Years a Slave" after McQueen's wife discovered the book, which Ridley subsequently agreed to adapt on spec. McQueen had a hand in shaping the script that Ridley turned in, but when he asked the writer for shared credit — not uncommon in Hollywood — Ridley politely declined.....

McQueen was nonplussed and appealed to

Fox

Searchlight

, which ultimately sided with Ridley. Brad Pitt, who produced "Slave" and plays a small role in the film, was even forced to step in at one point and mediate.
Wait....it gets better (or worse)....
At the

BAFTA

Awards

, Steve allegedly "berated Ridley's wife while the writer was in the bathroom, trying to snatch up her BAFTA souvenirs and leaving her in tears" And, Steve "insisted that the writer be seated at separate tables at awards shows late in the season, including the BAFTAs."
Read more about the feud here.
In other entertainment news....