Despite his wife filing for divorce last week, rapper Big Boi is carrying on with life looking happy as usual. And even hit the Falcons game last night with his two sons Bamboo and Cross. Check out the daddy-son pics inside, plus Usher catching the game with his own kiddie as well.
And news about alleged non-child support paying Jermaine Jackson inside...
Big Boi and wife Sherlita may be parting ways after over 10 years together, but the ATL rapper is anything but down these days. He hit up the Monday Night Football game at the Georgia Dome last night with he and Sherlita's son, Cross, and his son, Bamboo, from a previous relationship.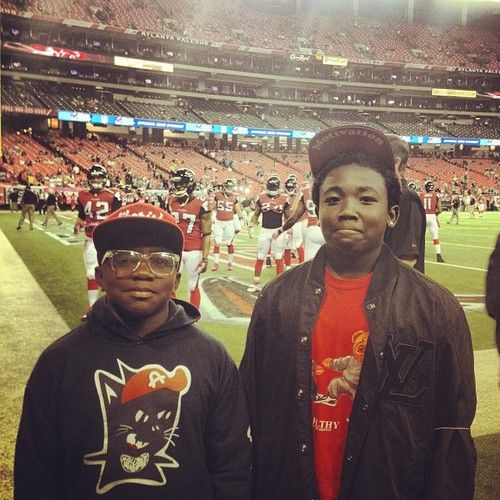 His big boys seemed to be trying to not crack a smile.
And the fellas even ran into fellow ATLien Usher on the field after the game:
Fun times. Big Boi, who just wrapped his Shoes For Running tour on October 3rd, has remained mum about the divorce papers getting filed.
And in not so cool daddy news, Jermaine Jackson has just had his wages garnished due to failure to pay child support!
Jermaine (pictured above out with current wife Hilima) has been having longtime problems paying his child support to his ex-wife Alejandra Jackson. Alejandra, who also has two kids with Jermaine's brother Randy, has three sons with Jermaine. And she's pissed he's behind on his child support

payments

one again.
So on the same day Jermaine idiotically purchased a 2009 Ferrari California for $160,000 ($70K of which was in

cash

and he traded in his Rolls Royce to cover the rest) TMZ reports the system started garnishing his wages.
He's getting $3750 taken out of his

bank

account every month. $3000 for the child support and $750 for late penalties.