Pharrell Williams nabbed the

cover
of Elle UK's newest issue and controversy is already brewing behind P rocking a Native American war bonnet. Also, Don Cheadle is currently trying to raise money to fund his Miles Davis Project. See P's spread and get the deets on Don's new project inside…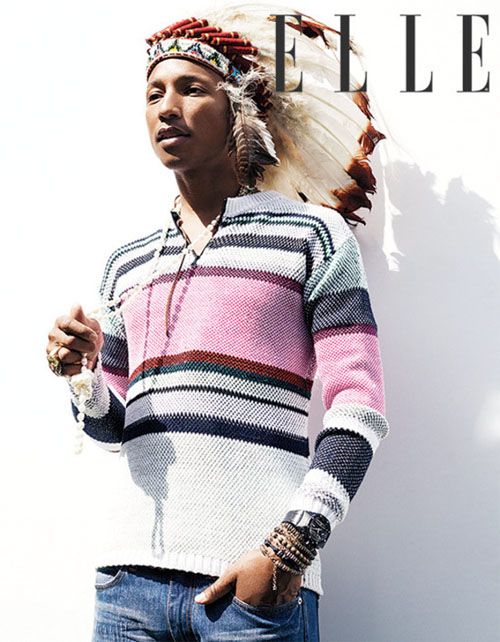 [UPDATE]: Pharrell has issued an apology via his rep after receiving negative backlash over his ELLE UK cover wearing a Native American headdress.
"I respect and honor every kind of race, background and culture. I am genuinely sorry," a rep for

the

star

issued in a statement to the

Daily

News

.

Pharrell Williams is having one hell of a year and to add to his accolades, he has landed on the cover of a special collector's edition of the July 2014 issue of Elle UK magazine.
Donning an elaborate Native American headdress, the superproducer ditched his now famous Vivienne Westwood hat for Elle UK's issue that features cult male icons on collector's edition covers.
In the cover story P talked about how his wife,

Helen

, helps shape his

creativity
, his Vivienne Westwood hat and understanding the value of people and things.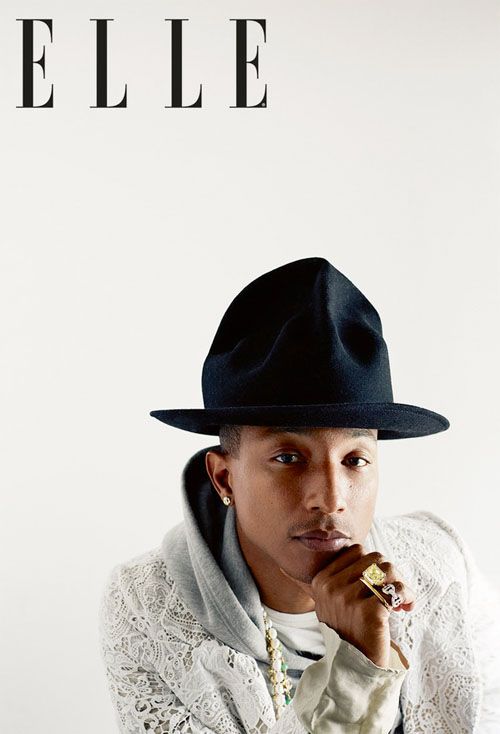 On how Helen helps his creativity: "We just motivated each other as friends. She pushes me. I push her."

On his Vivienne Westwood hat: "I remembered (Malcolm McLaren's) Buffalo Gals video, where he wears the hat. I actually wore it five years before I was photographed in it, it's just that no-one was paying attention at the time."

On good manners and understanding the value of things: "I wasn't always that way. I took a lot of years to understand the value of things and the value of the people you work with," he continued. "The value of your fans who ultimately hold you high and lift you up. We're just hang gliders, dude, and they are carrying us around."

Peep the behind-the-scenes-video of P's Elle UK cover here.
You can check out P's full spread and interview in the July issue of ELLE, out June 5th.
Meanwhile, people are already up-in-arms over P rocking a feathered warbonnet on the

magazine

cover

. One comment on the magazine's site reads, "This is so wrong, obviously. Ignorance is not bliss, especially for those of us on the receiving end. Ignorant or indifferent - end result is the same."
And another comment reads, "Blatant disrespect to Native people and cultural traditions is really disgusting. As a major magazine, you should already know better."
Did you find his cover offensive?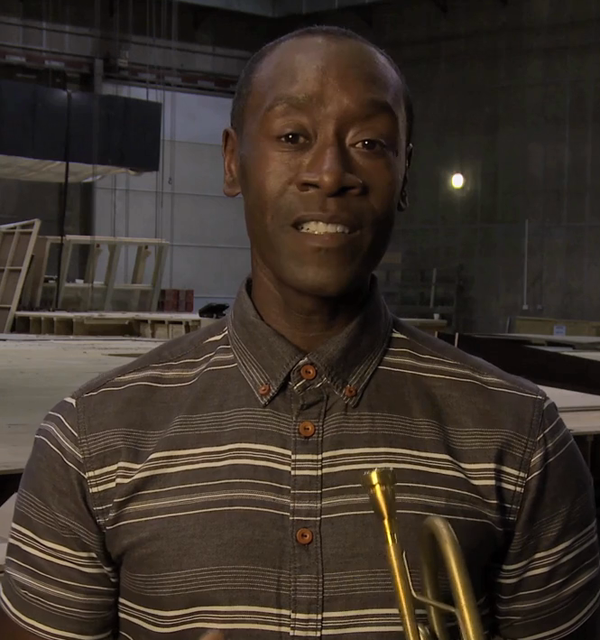 "House of Lies" actor Don Cheadle is gearing up for his feature directorial debut in a new project he's working on titled,Miles Ahead.
Miles Ahead will be a movie based on the

life
and music of legendary jazz

musician

Miles Davis. He has started a "social experience" in the making of the movie to help raise money to fund the new project.
Music has always been one of my passions. Since 6th grade, when I started listening to my parents' Miles Davis records, his artistry has been an inspiration to me; he was someone who only ever followed a path as a

runway

to create a new one.

Surprisingly, Miles' life, his passion, his creativity, his fire have never been brought to life in a film and the fact that his family has chosen me to do this now is an honor.

I want to tell a story that Miles himself would have wanted to see, something hip, cool, alive and AHEAD.

I've taken my marching orders from Miles' mandates ("Play what's not there." "Fear no mistakes. There are none.") and focused in on a very specific point in his life to explore his relationship with his muse, his voice, his fears and challenges to come out of his silent period and return to the music. I'm hopefully making a movie that tells a story many people can relate to, jazz fan or not.

MILES AHEAD is not just about the music. It's about what we all face at one time or another in our lives; questions about who we really are, what we have to say and how will we say it. How will we ultimately be defined and who gets to say so?

Speaking of defining, in Miles' illustrious career, he played everything from show tunes to acid rock. That's why he rejected the term "jazz" and preferred to have his work defined as "social music."

It makes perfect sense therefore to make MILES AHEAD a Social Experience.
I'm here on Indiegogo to invite you to connect with us NOW.

I want you to be a part of our journey, our story. Be a part of bringing a great story to life and help us take that experience to the next level. Here are some of the "Thank You" perks for being a part of MILES AHEAD.