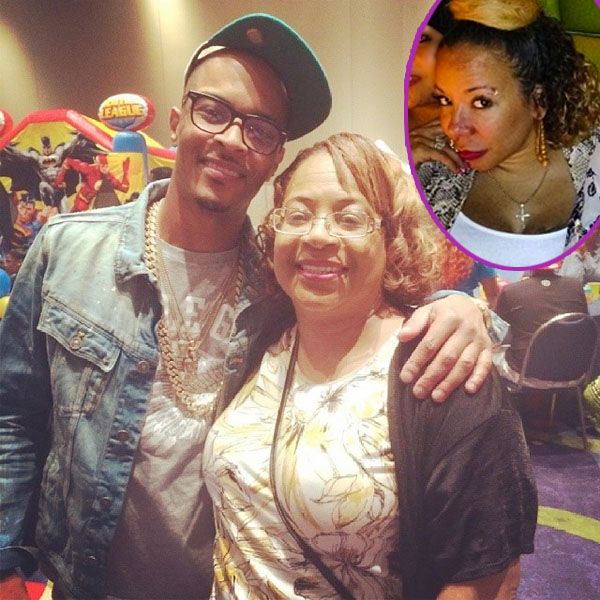 The drama continues in the Harris and Miller households! T.I.'s mom has hopped in the middle of her son and his wifeTiny's marital issues. And guess how she reached out to Tiny? On Instagram, of course!
Also, Master P recently lost custody of his children with his estranged wife Sonya Miller! Get the latest on all the family drama inside…
Guess T.I.'s mom Violeta Morgan felt it was time for her to speak up for her son regarding their issues. So she did...on Instagram. Sighs...
And over the weekend, Tiny hit up Atlanta's Buckhead Bottle Bar with her girlfriends Toya Wright and Tamar Braxton, posting IG pics of them having a good time. Tip's mom stepped in…but probably not in the best way.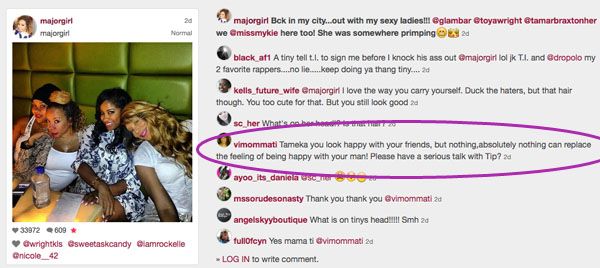 Under a pic of Tiny posing it up with Toya and Tamar (above), Tip's mom left the comment, "Tameka you look happy with your friends, but nothing,absolutely nothing can replace the feeling of being happy with your man! Please have a serious talk with Tip?"
We agree with Mama Tip...but did she have to post this to her Instagram? She couldn't pick up the phone and give Tiny a call or shoot her a text? Damn.
And Mama Tip didn't stop there. She also clapped back at fans who commented on her no longer wearing her wedding ring:
She posted, "Just because you don't see a ring doesn't mean that there is no commitment!"
Hmm...Tiny hasn't been wearing her ring in public much at all. Back in March, when asked about her ring when she was on the "Wendy Williams Show" she claimed she wasn't wearing it because she jammed her finger and couldn't fit it. Finger still jammed? Hmm...
We really hope these two can work out their issues whether they decide to stay together or not. But we hope they work it out somehow...OFF social media.