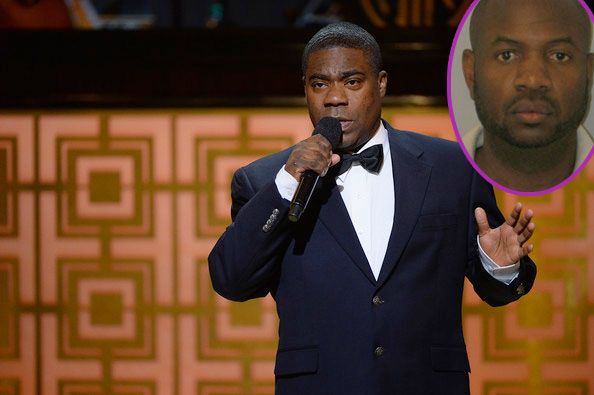 We have updates concerning the Tracy Morgan car crash that left four wounded, one dead and landed Tracy in critical condition. Check out the updates inside and read what the accused truck driver said in his own defense.
Today, the HuffPost reports that state police released audio recordings from three 911 calls made after the accident. "It's a terrible accident," a woman tells the dispatcher in one of the calls. "The car flipped. It's on its side. It's two vehicles and a Wal-Mart truck."
Also, Tracy is now listed in critical but stable condition as the controversial details of the crash are laid out in court and old family wounds are revealed in the press.
TMZ reported on the strained relationship between Tracy and his mom, Alicia Warden, who claims Tracy's fianceeMegan Wollover won't allow her to see him. Although Alicia spent 5 mins in Tracy's room on Sunday, she complained that Megan has a grudge against her and prevented her from seeing him on Saturday.
"All I wanted was for our family to be alone with him. I wanted to pray over him and couldn't do that because so many people were in the room." Alicia also revealed that she only learned about the accident through television reports.
In new developments, Kevin Roper (inset), the truck driver behind the wheel of the Wal-Mart truck, is speaking out on his own behalf and STRONGLY denying reports that he suffered from sleep deprivation.
He says that a criminal complaint filed by police that states he hadn't slept in 24-hours is bogus. He blames the report on cops trying to cover their ass. He used his Twitter account to vent his frustration: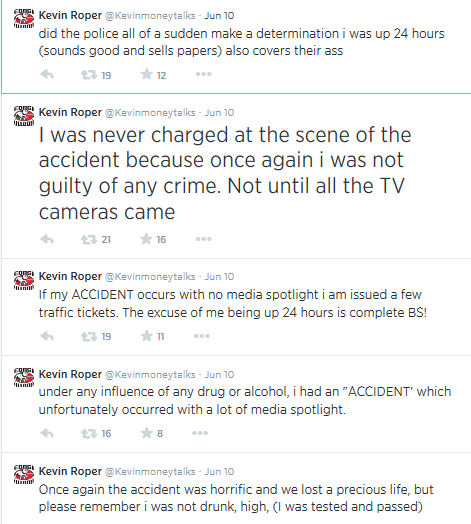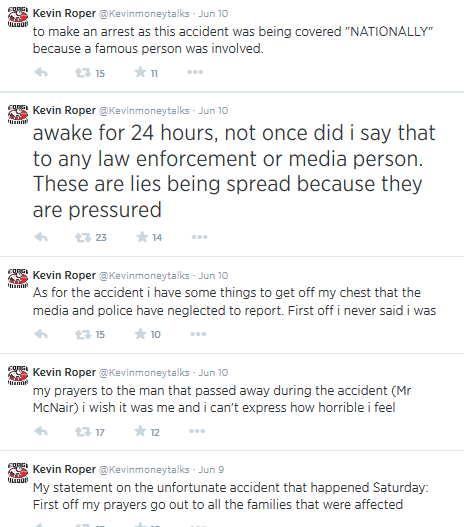 While police have charged Kevin with one count of death by auto and four counts of assault by auto, he claims he was NOT drunk, NOT high, and NOT suffering from sleep deprivation. He'll be arraigned at 3 p.m. ET in Middlesex County Superior Court in New Jersey.