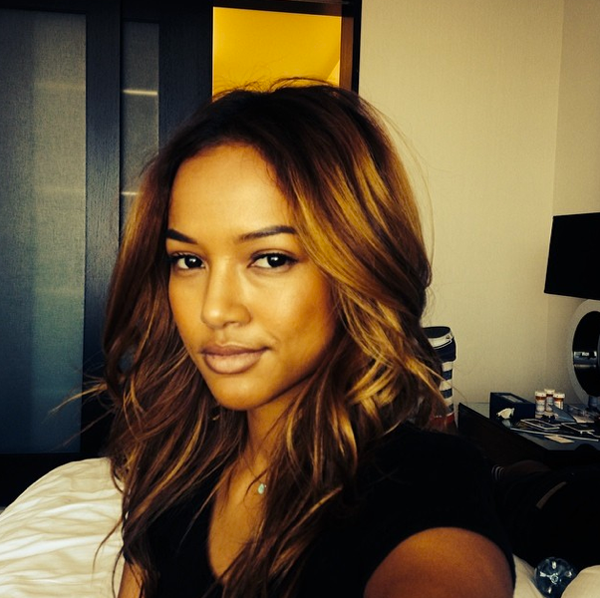 Chris Brown's main chick (we believe...for now) Karrueche Tran has responded to those who label her his side chick. Find out what she had to say inside…
As we all know, Karrueche has been stanning for her on-again/off-again R&B singing boyfriend, attending court hearings with Breezy's mom and accepting his jail calls while he professes how much he loves her. But, their relationship has always been one we questioned. One minute Breezy wants Rihanna then the next he's boo'd up with Kae.
But VH1 conjured up a list of Hip Hop's most notorious side chicks and Karrueche was at the very top of their rankings. Joining her on the mistresses of

Hip

Hop

list were rapper Lil Kim, "LAHH ATL" star Joseline Hernandez, video vixenKarrine Steffans, one of Diddy's baby mamas Sarah Chapman and Ludacris' baby mama Tamika Fuller, to name a few.
Kae took to her Instagram to express how embarrassed she is by making this list, but confirmed she's happy with herself, flaws and all. She posted,
when no one understands you.. they misinterpret you.. judge you.. label you.. this is embarrassing to see, but I can do nothing but laugh because at the end of the day you can say whatever you want about me.. Label me however you please.. Your words do not define who I am. I'm happy with myself.. Flaws..wrong choices..mistakes and all and that's all that matters. I usually don't speak up on shit like this but whatever. I have family that has to see shit like this. I don't even think we're all on the same page as to what a "side chick" really is.. Either way