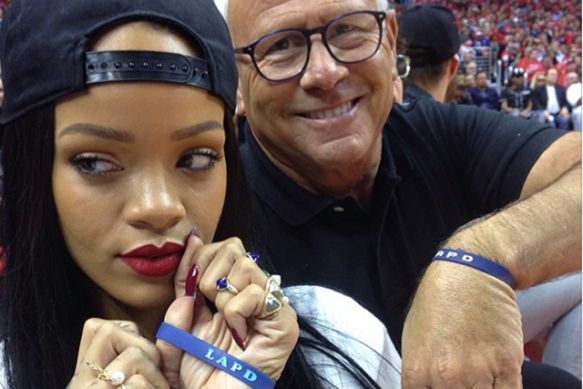 Rihanna turned a recent LA Clippers mishap into an opportunity of giving for the underserved kids of the LAPD Cadet program. Find out how a cracked phone gave birth to a $25K donation inside….
For what its worth, there are some good things popping off for minorities at LA Clippers game. Last Saturday, Rihanna attempted to take a selfie with Los Angeles Police Commission President Steve Soboroff, during the Clippers vs. Oklahoma City Thunder game. And she mistakenly dropped and broke his cell phone.
According to TakePart, RiRi graciously offered to autograph the phone for an eBay auction to raise funds for the LAPD Cadet program and officers who've fallen in the line of duty. Also, she reportedly generously wrote a check for $25K.
Bidding for the phone starts at $250 with half of the winning bid money going to the cadets, and the other half earmarked for the Los Angeles Police Memorial Foundation to support the families of fallen officers.