Kevin Hart's ex-wife Torrei Hart says her ex-husband's

current
girlfriend Eniko Parrish is a homewrecker! And saysshe is to blame for their marriage ending after seven years. But according to Kevin, he says his girl has NOTHING to do with their break-up and Torrei needs to get over it. Get all of the juicy deets inside…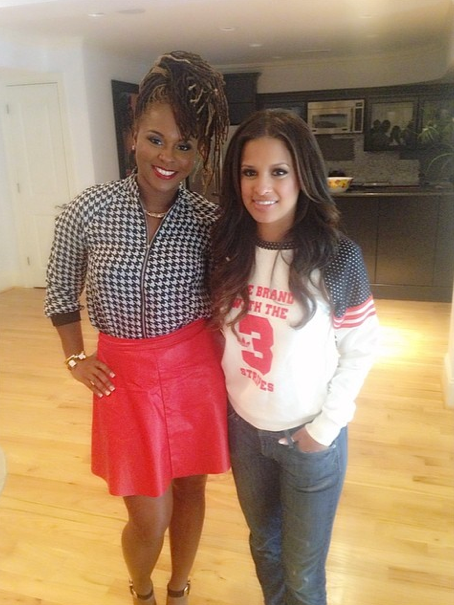 They say hell hath no fury like a woman scorned. And it seems to be true when it comes to one celebrity relationship in particular.
Kevin Hart's ex-wife Torrei Hart is pointing the finger at Kevin's current girlfriend as the reason her 7-year marriage ended with the reported $50 million comedian.
During the interview, Torrei claimed the reason she and Kevin ended their relationship was because of infidelity after an alleged affair with his current girlfriend, Eniko Parrish.
"I never lashed out. I never tried to punch her in the face, even though I've had moments where -- trust and believe -- I

wanted

to K.O. her ass."
She also added that the fact her two children have to be around the woman who she believes wrecked her happy home adds to her frustration.
"It does hurt that my kids have to be around a woman who broke up a marriage," said Torrei. "I was with [Kevin] when he was selling sneakers for five dollars an hour. I was at every show. I was at his first show where he ever did standup ... I was his muse. I was there from the beginning."

While Torrei blames Eniko, Kevin says his current girl has NOTHING to do with their break-up and that his ex-wife needs to move on. He made it known that he tries to build a positive relationship with Torrei's new boyfriend and that dishing out $20,000 a month and being a good father to their children STILL isn't enough for her.
It's amazing what people do for attention...all I can do is laugh at a lot of this ridiculousness.

Fame is a unbelievable drug people, I say this because so many people want it and are willing to do whatever it takes to get it.

Everybody isn't built for this...

Here's what's sad, My Ex wife is the mother of my 2 beautiful kids & is well taken care of,I go above & beyond what the court ordered me 2do

Because she is the mother of my kids I would never slander her name or anybody that she's dealing with.

I've actually embraced the man that she is dealing with with nothing but positivity. I'm a mature adult, I'm not a teenager

That man is going to be around my kids and for that reason alone I want to have a positive relationship with him.

4 her 2 continue 2 talk about my Woman is honestly sad especially after 5yrs of us being 3gether &a total of 6 1/2 years from me leaving her

With that being said don't believe the hype people, I've been separated & divorced for a long time now people. I've moved on with my life

My woman has nothing to do with my past marriage problems in any way shape or form. It's almost 7yrs total of me not being with my Ex

I guess giving a woman over 20k a month and still being there for her and being a incredible father isn't enough!

I want nothing but the best for her & her boyfriend and that will not change. I ignore negativity,being bitter & angry will get u know where

I love the fact that my woman loves my kids and a smart woman should love that as well. What if it were the other way around?

What if a woman despised a mans kids because they weren't hers???? People don't think before there actions...

With that being said I hope my Ex wife honestly finds happiness. THIS HAS BEEN A KEVIN HART PERSONAL ANNOUNCEMENT. Have a good day everybody

I'm a open book with my life and I always have been. I don't hide anything from my fans. I'm as real as it gets people. Thanks for listening

P.S I was listening to "Drake's" album while I was tweeting all that stuff....lmfao
That shit made me emotional lmfao
Well..there you have it...